On April 12, the Russian number one Food and Alcohol Exhibition, PRODEXPO 2021, opened its doors in Expocentre Fairgrounds.
The FRESHEXPO team has developed and brought into life the design-projects of one-of-a-kind 48 sq.m. and 60 sq. m. exhibition stands for Dobroflot and RUEDA Whine Region, accordingly.
Dobroflot is a leading fish cans manufacturer in Russia and its primary goal of exhibition is to introduce new products to the market, such as frozen product line.
We were faced a challenge to create a project of modern, light exibition stand with bright elements. The central focus should be new products attracting interested visitors as much as possible, including through the use of interactive.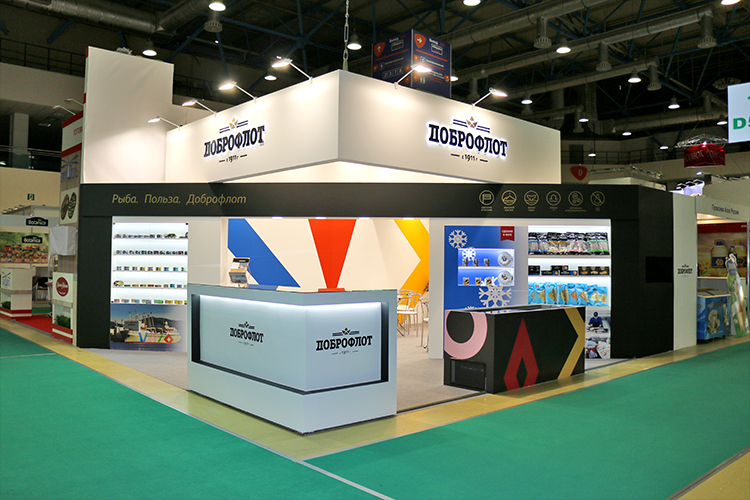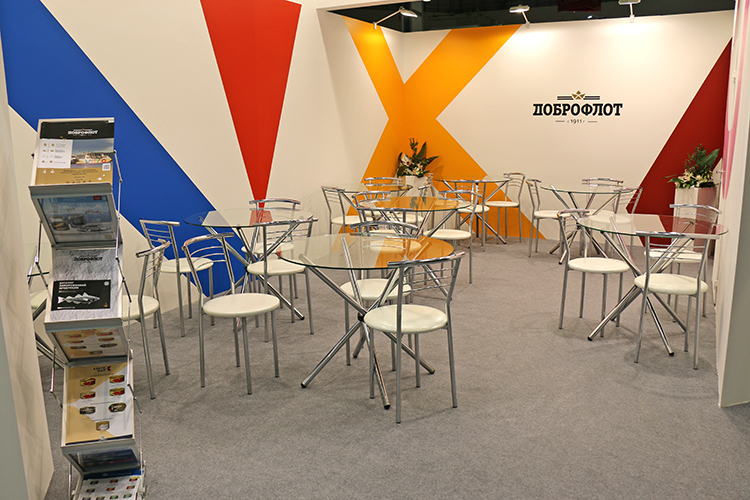 In order to solve the tasks in the L-shaped exhibition stand we made two display cases. The one is with traditional can products, the other one is with new frozen product line.
But just display of the product is not enough to attract partners and clients now. Digital and hi-tech design elements shall be used in the exhibition stand. That is why we made a 3D pyramid demonstrating the products during the exhibition and making visitors to draw attention, and inviting them to further conversation.
The challenge of the project was that the display cases shall be masterly placed in such a was as to ensure clear visibility and access to it from all sides. This hard drafting design work took about a month.
At the same time we managed to reflect the style of our client in full that would be good for brand recognition. In order to do it we applied corporate colours used on labels, in a factory, facilities of the client.
It was very important to us that the work had been carried out by all in the same boat. Client, manager, designer, and technical expert took part in the process of creation of the project. All matters have been solved quickly and jointly. Finally we created the exhibition stand that would be just as good for everybody both in quality and exterior appearance.
An exhibition stand for RUEDA we constructed for the second time. The company representatives were please with the results of the last year PRODEXPO and decided to keep the same design.
But according to the newly adopted requirements the wine testing areas should be enclosed in an exhibition stand. So the problem we faced was to plan a wine testing area in such a way as it to be visible, natural and easy-to-use.
Before finding a final solution we gave a lot of options how to get the better of the wine testing area with interest and comfort. There were a lot of details we changed, added, experimented and finally we found good solutions for everybody.
We managed to make an easy access to the client's products in accordance with all sanitary requirements of Expocentre Fairgrounds, at the same time the exhibition stand remained its style, zest, attractibility and openness.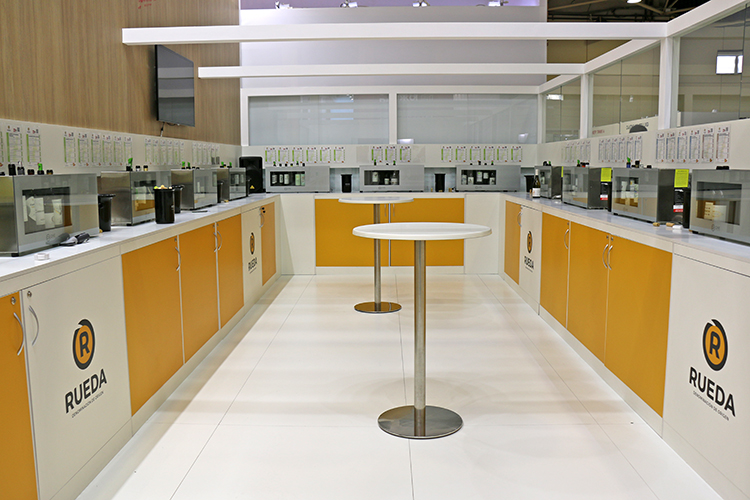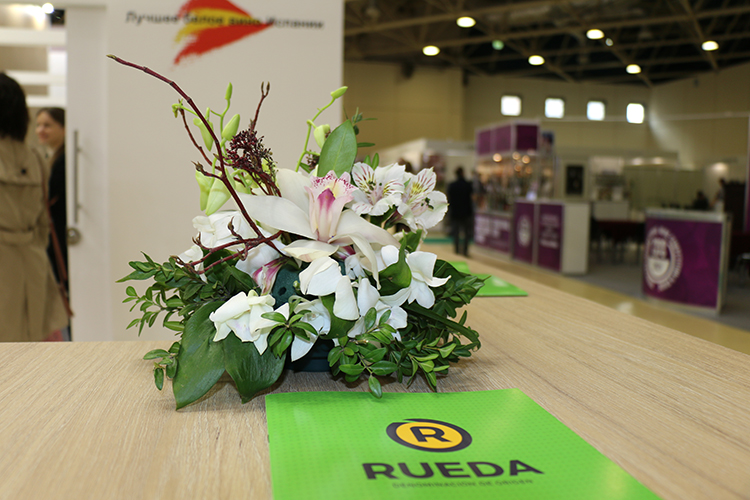 We always pay special attention to quality of the exhibition stands, just-in-time performance and hope that even under these conditions after forced downtime B2B meetings at the exhibition would help our clients attract new customers and partners as much as possible.