The large-scale salon of railroad machinery and technologies designed for the 1520 track gauge, having a strategic impact on Russian railroad industry development and international cooperation enhancement, was hold at the end of August.
Our team has designed and brought into reality the design-projects of exhibition stands for Tikhoretsk Machine Building Plant named after V.V. Vorovskiy, PLC, JSC FIRMA TVEMA, Vagonmash LLC, Car Systems Manufacturers Association at PRO//Motion.Expo exhibition in Scherbinka. Total construction area was 203 sq. m.
We designed stylistic stand project for Tikhoretsk Machine Building Plant named after V.V. Vorovskiy, PLC. Railway car replica located in the stand is a closed meeting room with laconic furniture and multi-media equipment. There are branded reception zone as well as show-window to demonstrate manufactured equipment at the corner of the structure. There are two open-space meeting areas decorated with flowers in the stand. There are also plasma TV and crystal light panels to give more information.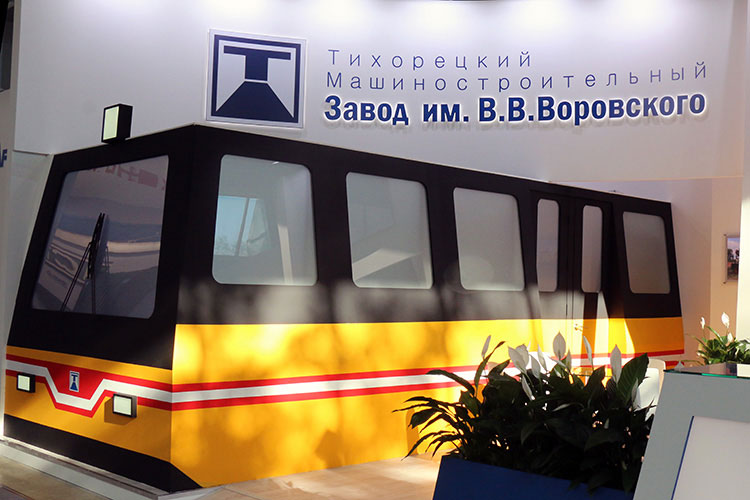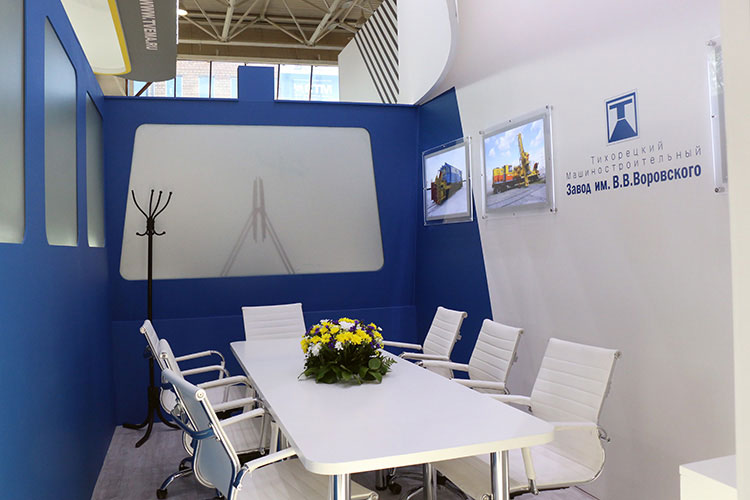 One-of-a-kind exhibition stand for JSC FIRMA TVEMA was constructed with a focus on company products. There are replicas of rail track section with compound bars, removable diagnostic bogies and exhibit items on illuminated decks, a supported model set with 3D logo of the customer provides for opportunity to see company equipment in details.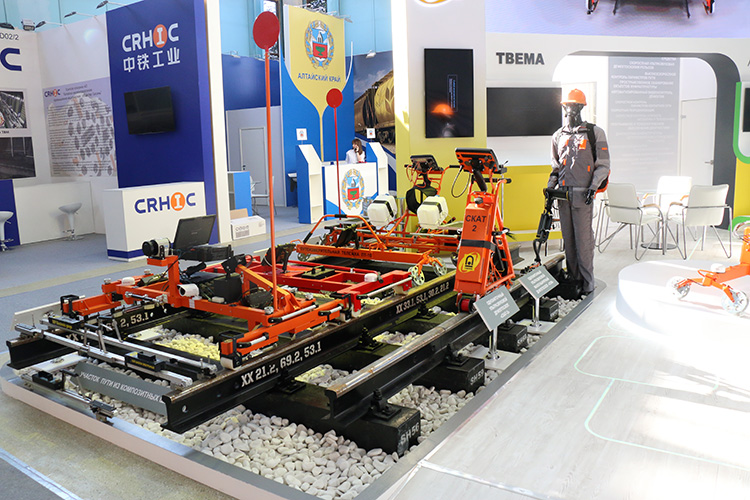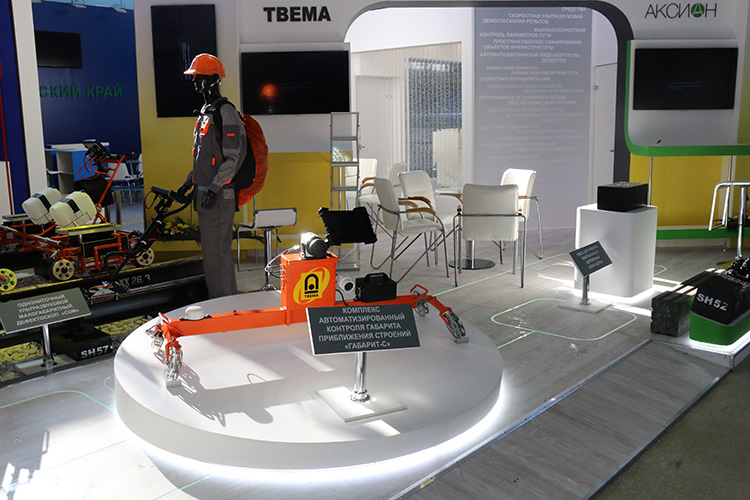 In addition, there are two well-made demonstration zones with creative designer's solutions fully-equipped with multi-media in the exhibition stand. Many décor elements were used in exhibition area decoration such crystal light panels, one-off floristic sets, illuminated 3D logos.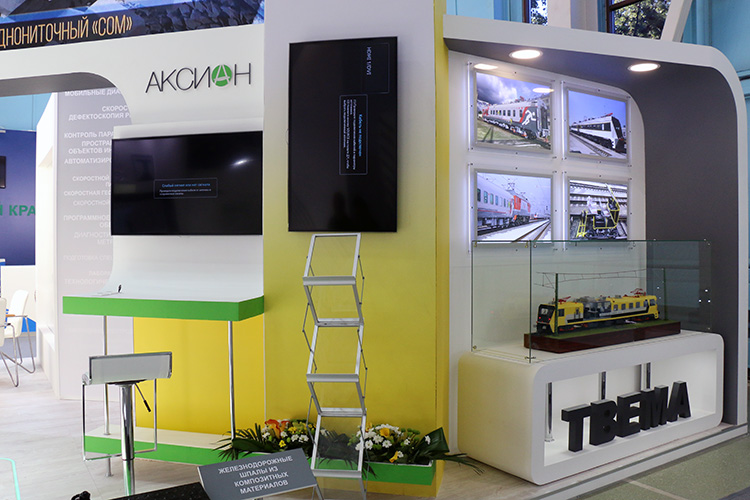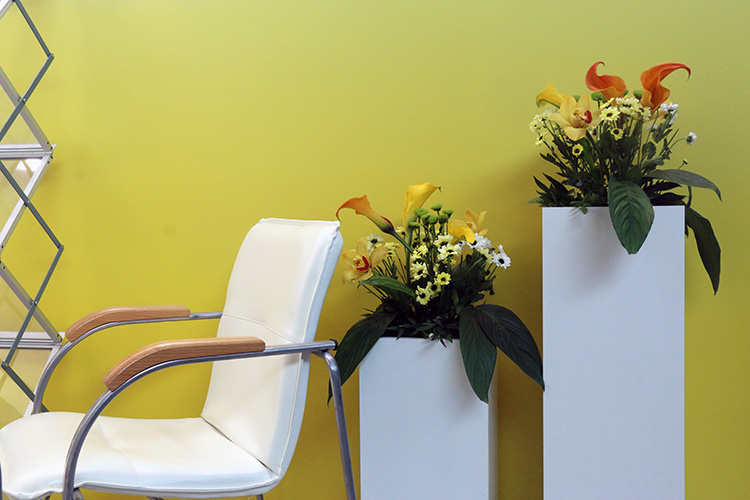 A lifting bar that not only adds some lights and draws attention of the most visitors but delicately complete the entire structure in flowing lines, is worth noting separately. Special attention shall be given to the meeting room with water bubble panels and interesting light solutions creating comfort and unique ambiance.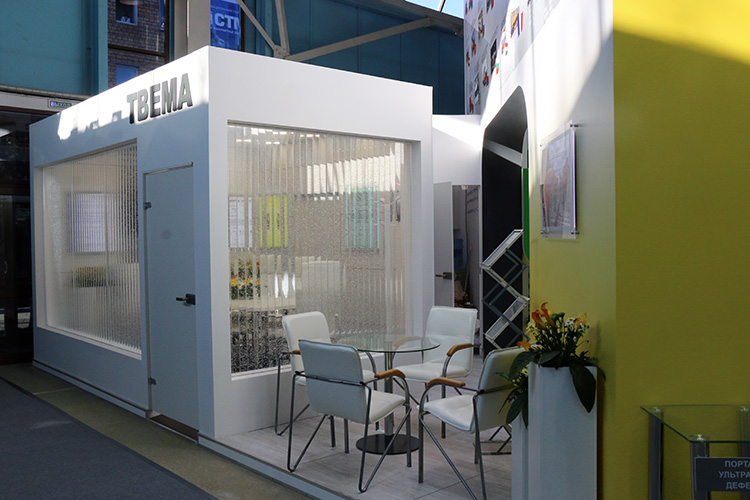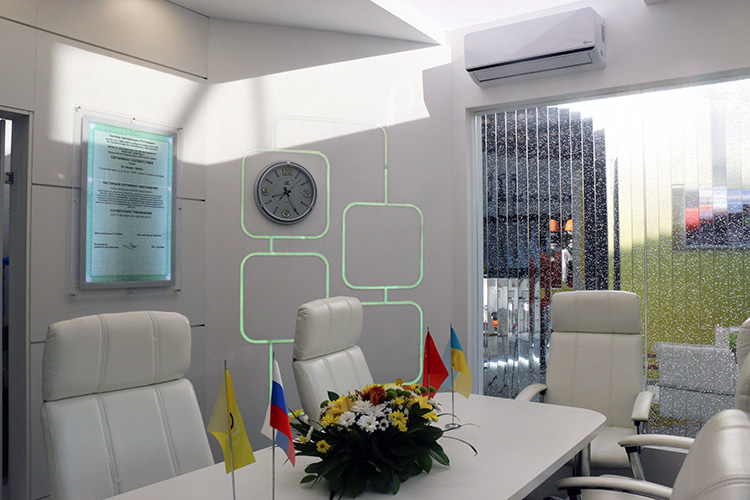 The exhibition stand of unusual configuration for Vagonmash LLC was constructed in customer corporate colours and rigorous geometry. Semi-enclosed meeting room is delicately isolated by water bubble panels, decorating it at the same time. There is everything needed for efficient work in the stand such as product demonstration decks, reception area for first-time dialog with visitors, open-space meeting area, images of the products produced and plasma TV set to show company video.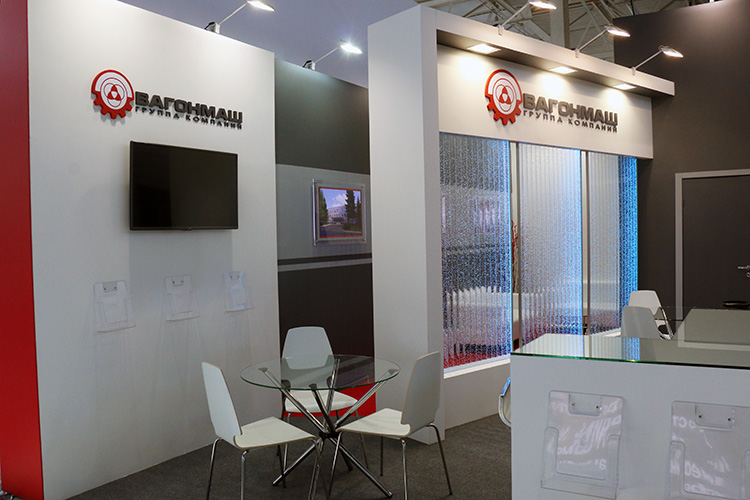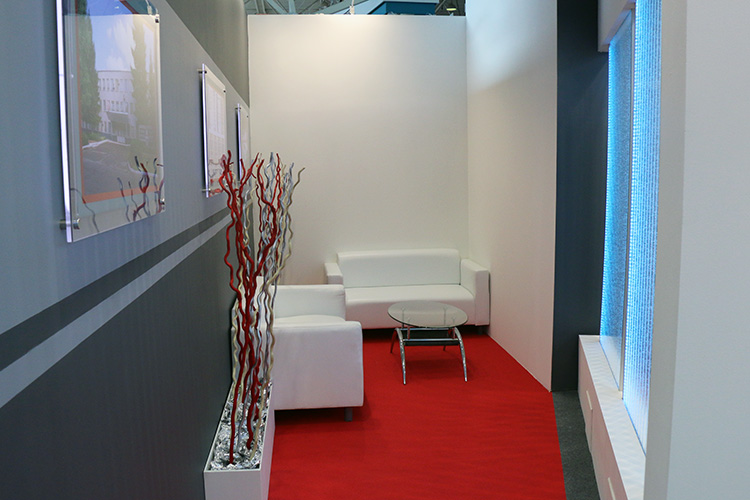 Décor restrained exhibition stand for Car System Manufacturers Association enables to pay maximum attention of the visitors to the demonstrated company equipment. There are reception and leaflet holder with promotional materials to take a first look at the exhibitor. Due to semi-enclosed meeting room with topic-based graphic arts a communication becomes more confidential.