On November 18, 2019 MEBEL the largest industry event opened in Moscow. The exhibition is the main event of the furniture market in Russia and the Eastern Europe, gathering world leaders in manufacturing, interior and design in one place for effective business communication, demonstration of the best furniture, new collections and business development as such. There are a wide range of products for children's room, bedroom, kitchen, dining room and living room space planning at the exhibition.
The FRESHEXPO experts have constructed two exhibition stands for Uzbekistan Furniture Association of 66 and 21 sq. m.
The 66 sq. m. exhibition stand attracts proper visitor's attention with bright focuses and irregular design. Bee's sells and chemical compounds used both in hanging structure and exhibition stand walls are the basics of design. The front-end is decorated by shaped structure with a hovering chair. The exhibition areas is noticeable from a long distance thanks to creative design solution, great number of luminous elements and logos on the hanging structure. One of the lateral sides is made of steel structure with chairs on it. There are enough open-space meeting rooms, TV plasma and branded reception desk to welcome the guest, created for effective work during the event.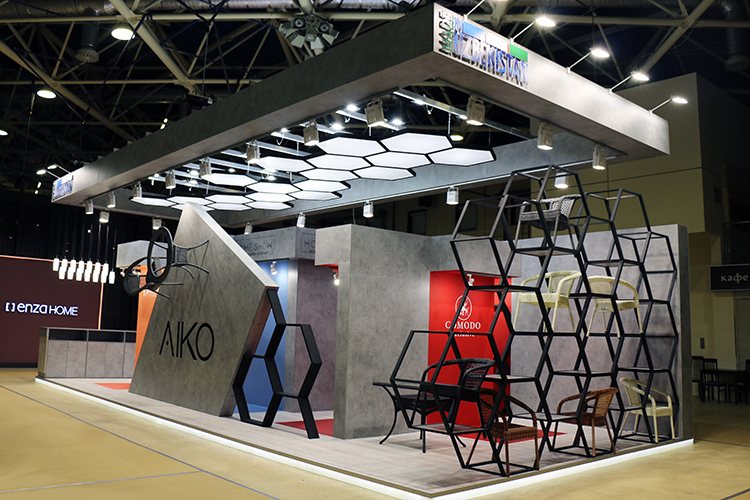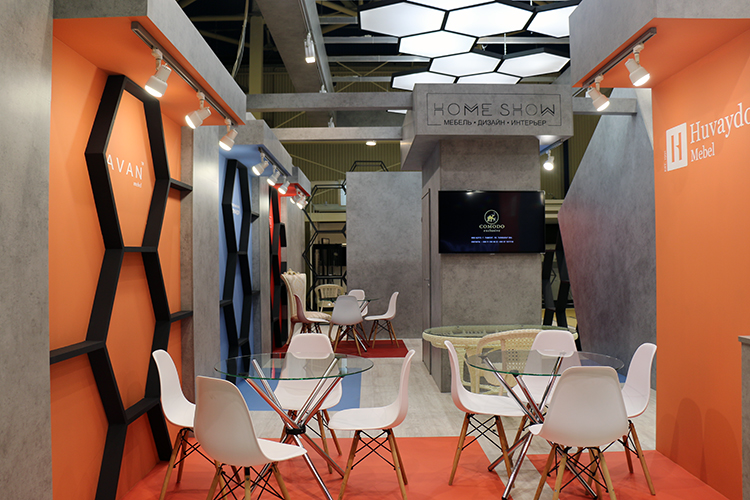 The second 21 sq.m. stand is made with gray color and focus on product samples prevailing. The lateral side is equipped with turret mechanism for display items to be easily seen. Reception desk and meeting tables aid in comfort communication.