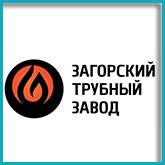 Zagorsk Pipe Plant (ZTZ) is a Russian manufacturer of large-diameter electric-welded pipes.

The plant is located in the city of Peresvet, Sergiev Posad district, Moscow region. ZTZ is a modern, high-quality and cost-effective production.

Zagorsk Pipe Plant and the ITZ (Pipe Coating Plant) located nearby constitute integrated manufacturing & coating pipes complex.