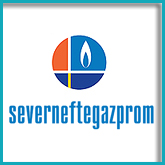 Severneftegazprom LLC is one of the primary hydrocarbon-producing enterprises in Russia, is part of the Gazprom Group.
Severneftegazprom produces, collects, treats, and markets natural gas. It conducts prospecting and geological exploration, and carries out and manages construction.

The company's central project is development and infrastructure building for the Yuzhno-Russkoye oil-gas-condensate field. The field's gas is the key resource for the Nord Stream gas pipeline. Facilities for gas production at Yuzhno-Russkoye were built in only two years, and they are among the most modern and technically sophisticated in Russia.