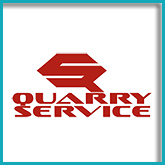 Quarry-Service LLC. is the official distributor of Sandvik Mining and Sandvik Construction in Russian Federation.

Quarry-Service supplies professional industrial equipment for construction, road building and mining industries. The company's product range includes crushers, sorters and drills, hammers and much more.

In addition the company offers equipment technical support and repair.