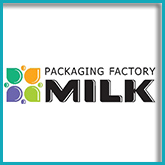 MILK Packaging Factory is a packaging manufacturer of aluminum foil in Russia.

The company has a complete production cycle for preparation and coating an aluminum foil, slitting into the necessary formats, providing prepress (design, manufacture of printed forms), printing and cutting out on punching a die cutting.

Milk company products: unembossed die cut lid, embossed die cut lid, unembossed die cut Lid with the customer logo, plastic die cut lid, laminated foil, roll foil with printing, the blister foil with heat seal lacquer, aluminium foil with heat seal lacquer and primer.