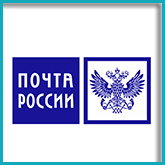 FSUE Russian Post was established by the government order dated September 5, 2002.

Today, Russian Post includes 86 branch offices, about 42,000 objects of postal service operating on all of the territory of the Russian Federation including all towns and villages.

The company has one of the most numerous work forces — almost 380,000 employees.

Every year, Russian Post accepts, processes and delivers more than 1.5 bln letters, 48 mln packages and 113 mln money transfers. The company offers over 80 postal, financial, informational, communication and other services.