1 August 2019 - 1 August 2019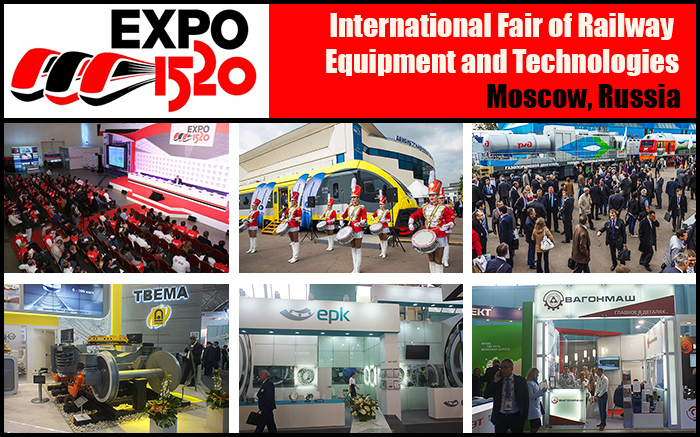 Why exhibit at EXPO 1520 with an exclusive stand of your company?
Showcase your innovative railway equipment and technologies at EXPO 1520 & discover new technological trends and developments in the logistics & transportation industry in Eastern Europe and all over the world;
Meet the key Russian and global buyers in logistics & transportation industry & generate new sales leads;
Meet your existing customers face to face and maximise the number of you business meetings during several intensive days;
An individual & unique exhibition stand design will totally attract everyone's attention at EXPO 1520. Any show visitor will get an accurate idea about your offering in one quick glance as FRESHEXPO team follows your brand guidelines (logo, colour and style). Maintaining similar design elements throughout your promotional material will give your organisation a consistent brand identity, making it more recognisable as time goes on;
High-resolution images and videos are a vital part of any exhibition stand as they answer customers questions. FRESHEXPO specialists will help you to make any advertisement materials you need;
The perfect exhibition stand has to fit the location. FRESHEXPO specialists take into account all nuances: the stand location in the pavilion, neighboring compositions and planned activities, including business negotiations, expert master classes or artists performances. Depending on your tasks, you can make the necessary zone on the stand more visible or vice versa.

FRESHEXPO company provides design and construction of exclusive exhibition stands in Russia and CIS countries, in Middle East, in Asia, in Europe, in North and Latin America.
We also offer advertising polygraphy and promo gifts to exhibition needs!

EXHIBITION DESCRIPTION
SECTIONS OF THE EXHIBITION
Light Rail Transport, Rolling stock and railway technology
Light Rail Transport (new section): Full-scale light rail transport specimen;
Rolling stock and railway technology: railbound vehicles for public and freight transport, streetbound vehicles for public and freight transport, subassemblies and components, driving gear, motors / engines, energy / electrical, vehicle components, materials, service for vehicles:
Electrification and energy supply, Infrastructure
Electrification and energy supply: electrification and electrical equipment , railway lines power supply, diagnosing equipmentãíîñòèêè, safety and control systems, automation technology and telemechanics, energy accumulation and storage, energy supply systems, interconnection systems, trolley wire equipment / line equipment, collectors / current convertrers, cables, earthing, throw rods, fuses and accessories;
Infrastructure: railway station design and construction, underground and tunnel engineering, maintenance, telecommunications, cleaning machines, chemistry & service equipment, electric power systems, track laying and track construction machines, air systems, platform systems, signaling & control systems, overhead line equipment, ecological surveys;
Freight railway transportation, Public railway transport
Freight railway transportation: freight transport logistics, combined transport, fleet management systems, interchangeable containers, shipment tracking, loading/uploading systems, weighting equipment;
Public railway transport: urban rail transport, station and stop premises, passenger information systems, passenger fare management, passenger counting, path control systems (chip cards, access systems, ticket defacing), clock systems, advertising facilities, safety & control, station lighting, luggage locker facilities, washing and toilet facilities, parking area;
Transport IT, Interiors, Services, Stations and passenger transportations
Transport IT: communication systems (digital radio, internet, train radio), management systems, operation – rail systems, location & navigation systems, video surveillance systems (cctv), traffic management systems;
Interiors: railway interior trim, seating systems, drivers consoles, flooring systems & coverings, furniture, air-conditioning systems, food/beverage systems, lighting systems, kitchen equipment and restaurant furniture, baggage equipment;
Services: financial, health and safety, environment, certification, software development, testing services, sience, research and development;
Stations and passenger transportations: mechanisms, building and finishing materials for construction and reconstruction of stations, stations of the underground; systems and means of navigation and landing, meteorology; systems of a safety, passengers, luggage, constructions and vehicles; concepts of an interior; replaceable details; services on design of carriages; internal furnish; door-handles/drives; luggage shelfs; the surface for tables; dining-carriages.