6 November 2018 - 9 November 2018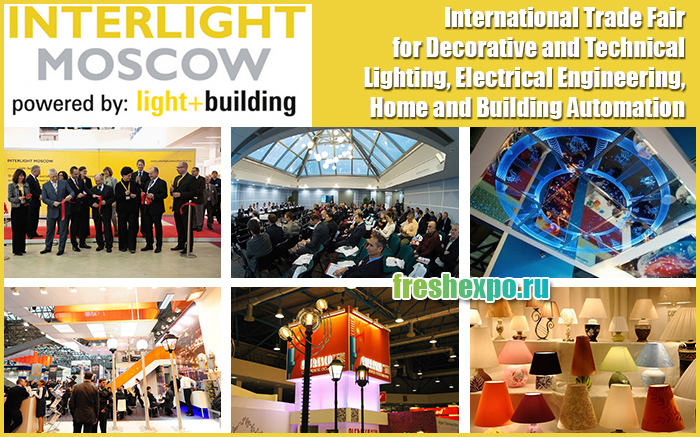 Why exhibit at INTERLIGHT MOSCOW POWERED BY LIGHT+BUILDING with an exclusive stand of your company?
Showcase your innovative lighting & light technologies & equipment at INTERLIGHT MOSCOW POWERED BY LIGHT+BUILDING & discover new technological trends and developments in the electronics industry in Eastern Europe and all over the world;
Meet the key Russian and global buyers in electronics industry & generate new sales leads;
Meet your existing customers face to face and maximise the number of you business meetings during several intensive days;
An individual & unique exhibition stand design will totally attract everyone's attention at INTERLIGHT MOSCOW POWERED BY LIGHT+BUILDING. Any show visitor will get an accurate idea about your offering in one quick glance as FRESHEXPO team follows your brand guidelines (logo, colour and style). Maintaining similar design elements throughout your promotional material will give your organisation a consistent brand identity, making it more recognisable as time goes on;
High-resolution images and videos are a vital part of any exhibition stand as they answer customers questions. FRESHEXPO specialists will help you to make any advertisement materials you need;
The perfect exhibition stand has to fit the location. FRESHEXPO specialists take into account all nuances: the stand location in the pavilion, neighboring compositions and planned activities, including business negotiations, expert master classes or artists performances. Depending on your tasks, you can make the necessary zone on the stand more visible or vice versa.

FRESHEXPO company provides design and construction of exclusive exhibition stands in Russia and CIS countries, in Middle East, in Asia, in Europe, in North and Latin America.
We also offer advertising polygraphy and promo gifts to exhibition needs!

EXHIBITION DESCRIPTION
SECTIONS OF THE EXHIBITION
Electrical Engineering
Electrical Engineering: cables and leads; distribution systems; distribution and joining material; low voltage equipment; plumbing trade and safety lugs; low current installation; transformers; ballasts for fluorescent lamps; ballasts for other discharge lamps; fixing systems; installation material for cable routing; switch and plug systems for luminaries; safety switch / modular installation devices; installation switches, plugs and sockets; isolators, load switches, perfomance switches and motor protection switches; control relays; command and control switches; time switches; storage programmable controls; power distribution equipment, low voltage equipment, middle voltage equipment; bus bar systems; switch cabinets; safety system; power electronics; receiving areal and broadband distribution technology; measuring and test devices; earthing, voltage compensation, lighting protection, excess voltage protection; electric heating; heat recovery systems; hot water production; single room heating controls
House and Building Automation
House automation for specific applications: heating control devices, ventilation, air condition & cooling systems and control devices; sanitation and water control devices; data network; security systems (danger detection systems, monitoring systems; visual, radio and personal paging systems; electro acoustic equipment; recording systems; transmission devices; control systems; observation and surveillance equipment; access control and entrance control systems), lighting, shading; house communications;
Building automation for specific applications: centralised/decentralised management system; system components of data communication; heating control devices; ventilation, air condition & cooling systems and control devices; sanitation and water control devices; fire alarms and smoke detectors; electricity distribution; lifts, exterior, energy metering and accounting, further uses, energy metering and accounting, further uses;
Technical Lighting, Decorative Lighting, LED Lighting, Electric Lamps
Technical Lighting: exterior lights, road and traffic lights, tunnel lights; floodlights; built-in lights, construction lights; wall lights; technical internal lights for offices/administration; technical internal lights for industry/business; BAP-lights; radiant lights; emergency and safety lighting, bacteriological lamps, irradiators; lights with movement sensors; optoelectronics; fibre optic lighting; accessories and component parts for technical lighting;
Decorative Lighting: luminaries for living areas, prestigious luminaries, chandeliers, crystal lamps; wall lights; ceiling lamps; table lamps; pendant luminaries; standard lamps; lights for children's bedroom; bathroom lighting; mirror lights; lights for pictures and sheet music; festival lighting; accessories and component parts for decorative lighting;
LED Lighting Systems: LED modules, LED converter, LED accessories, OLED lamps, LED lamps, LED fittings;
Electric Lamps: incandescent lamps, all purpose lamps, halogen lamps, light projector lamps, fluorescent lamps, infrared radiators, metal halide lamps, sodium discharge lamps, mercury discharge lamps, high pressure lamps, discharge lamps (HID-lamps), accessories and blank materials for electrical lamps;
Festive Lighting, Electircal Engineering, Service
Festive Lighting Pavilion: decorations, flexible neon, Rope, LED strip light, Light fringe curtain, rain, network, thread, snowflakes, LED trees, branches, floristry, lighting panels, 2D and 3D shapes, Electrofireworks, top lights for Christmas trees, spheres light, New Year's illumination of streets/design of facades, New Year's illumination of show-Windows;
Electrical Engineering Pavilion: wiring accessories; cable-conductor products; boxes; lightning protection; panel board equipment; power station, balancers; designing of power supply systems;
Service: software, waste management and recycling Institutions, organisations, associations; trade journals, publisher.