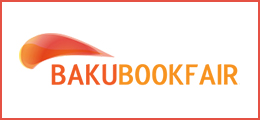 1 September 2019 - 1 September 2019
SECTIONS OF THE EXHIBITION
Printed products: books, magazines, newspapers, posters, postcards;
Rare book editions;
Audio, video, electronic books;
Bookstores;
Polygraphic equipment and materials;
Printing Services;
New technologies and consumables for printing houses;
Stationery;
Libraries, archives;
Literary agencies.
FRESHEXPO - stand Builder. We offer custom build exhibition stands construction.
The FRESHEXPO Co offers the development of up-market design project and construction of exhibition stand for BAKU BOOK FAIR 2019 (Baku, Azerbaijan) - stand building to be held on September, 2019 in Baku, Azerbaijan
Please send your request for quotation on exhibition stand construction to baranova@freshexpo.ru, by filling a form or by phone +7 (495) 660 60 68.
Additional services offered to construction of the up-market stand are as follows:
Equipping with multimedia;
Floristic decoration;
Furniture and equipment rent
Cleaning;
Catering;
Translators/interpreters, promo personnel, hostess;
Promotional items manufacturing;
Flight, railway tickets, transfer service, accommodation;
Transportation of the goods.
We are a reliable partner for you to entrust your participation in the event with exhibition stand construction. Our well-trained personnel support the clients at all project stages starting with a concept till bringing it into life.
FRESHEXPO is a multi-business firm rendering the following services as well:
Organization of business trips to anywhere in the world;
Corporate identity and promotional items development;
Corporate event, conference, seminar organization;
Business development: trips for establishing partnership relations be visiting plants, factories, production facilities, to find supplier, manufacturers and new sales markets;
Office space decoration.

Please double check the exhibition location and dates on an organizer's web-site as the event can be postponed, canceled or combined with alike event.

FRESHEXPO is not the organizer and shall not be liable for inaccuracy in the information provided.

FRESHEXPO company provides design and construction of exclusive exhibition stands in Russia and CIS countries, in Middle East, in Asia, in Europe, in North and Latin America.
We also offer advertising polygraphy and promo gifts to exhibition needs!