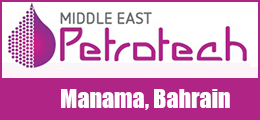 26 September 2018 - 29 September 2018
SECTIONS OF THE EXHIBITION
Chemical engineering systems and supplies;
Cleaning systems and equipment;
Computer systems and equipment;
Control valves and equipment;
Cryogenic technology and equipment;
Distillation systems and equipment;
Electrical systems and equipment;
Engineering design and contracting
Environmental engineering systems and equipment;
Heat exchange systems and equipment;
Instrumentation and control systems and equipment;
Laboratory equipment and instruments;
LNG tanker technology and associated equipment;
Maintenance systems and equipment;
Material handling systems and equipment;
Metal and alloy products;
Metering technology systems and equipment;
Oil, gas and petrochemicals consultancy;
Pipeline equipment;
Power generation equipment;
Process technologies;
Pumps and compressors;
Recovery plants and systems;
Reliability technologies;
Safety equipment and systems;
Tankage fabricators and equipment;
Training courses and services;
Turnkey contractor and process technologies;
Valves and fittings.
About
PETROTECH MIDDLE EAST (Middle East Refining and Petrochemicals Conference and Exhibition) will take place on 26 - 29 September, 2018 at Bahrain International Exhibition & Convention Centre (BIECC) in Manama, Bahrain.
Organizer
Allworld Exhibitions, Arabian Exhibition Management
FRESHEXPO company provides design and construction of exclusive exhibition stands in Russia and CIS countries, in Middle East, in Asia, in Europe, in North and Latin America.
We also offer advertising polygraphy and promo gifts to exhibition needs!