30 August 2017 - 2 September 2017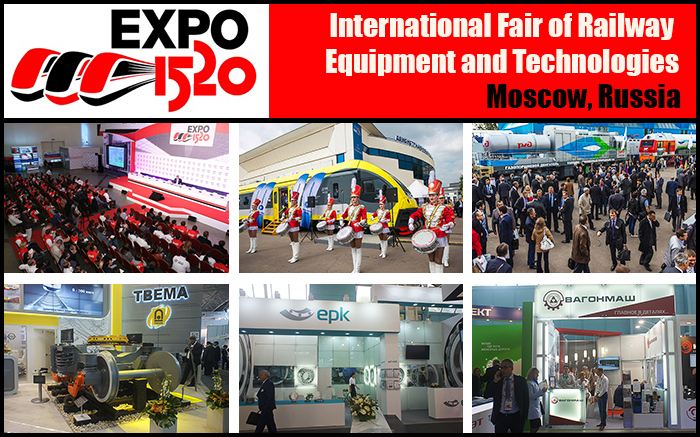 FRESHEXPO company provides design and construction of exclusive exhibition stands in Russia and CIS countries, in Middle East, in Asia, in Europe, in North and Latin America.
We also offer advertising polygraphy and promo gifts to exhibition needs!

EXHIBITION DESCRIPTION
SECTIONS OF THE EXHIBITION
Light Rail Transport, Rolling stock and railway technology
Light Rail Transport (new section): Full-scale light rail transport specimen;
Rolling stock and railway technology: railbound vehicles for public and freight transport, streetbound vehicles for public and freight transport, subassemblies and components, driving gear, motors / engines, energy / electrical, vehicle components, materials, service for vehicles:
Electrification and energy supply, Infrastructure
Electrification and energy supply: electrification and electrical equipment , railway lines power supply, diagnosing equipmentãíîñòèêè, safety and control systems, automation technology and telemechanics, energy accumulation and storage, energy supply systems, interconnection systems, trolley wire equipment / line equipment, collectors / current convertrers, cables, earthing, throw rods, fuses and accessories;
Infrastructure: railway station design and construction, underground and tunnel engineering, maintenance, telecommunications, cleaning machines, chemistry & service equipment, electric power systems, track laying and track construction machines, air systems, platform systems, signaling & control systems, overhead line equipment, ecological surveys;
Freight railway transportation, Public railway transport
Freight railway transportation: freight transport logistics, combined transport, fleet management systems, interchangeable containers, shipment tracking, loading/uploading systems, weighting equipment;
Public railway transport: urban rail transport, station and stop premises, passenger information systems, passenger fare management, passenger counting, path control systems (chip cards, access systems, ticket defacing), clock systems, advertising facilities, safety & control, station lighting, luggage locker facilities, washing and toilet facilities, parking area;
Transport IT, Interiors, Services, Stations and passenger transportations
Transport IT: communication systems (digital radio, internet, train radio), management systems, operation – rail systems, location & navigation systems, video surveillance systems (cctv), traffic management systems;
Interiors: railway interior trim, seating systems, drivers consoles, flooring systems & coverings, furniture, air-conditioning systems, food/beverage systems, lighting systems, kitchen equipment and restaurant furniture, baggage equipment;
Services: financial, health and safety, environment, certification, software development, testing services, sience, research and development;
Stations and passenger transportations: mechanisms, building and finishing materials for construction and reconstruction of stations, stations of the underground; systems and means of navigation and landing, meteorology; systems of a safety, passengers, luggage, constructions and vehicles; concepts of an interior; replaceable details; services on design of carriages; internal furnish; door-handles/drives; luggage shelfs; the surface for tables; dining-carriages.